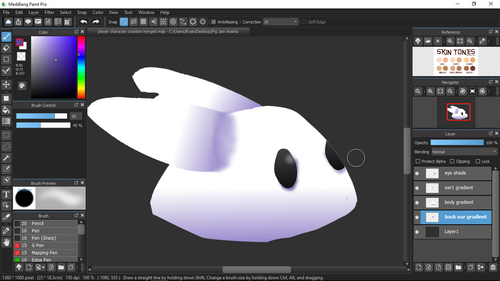 For this character i wanted the user to feel attracted to the figure in a kind of motherly nature. Looking at other games I noticed that Ori from 'Ori and the Blind Forrest' was probably the best character to look at when designing. Mixing several animals together I through around a multitude of designs and finally came across one I liked, though that was not the design you see above it still uses componants from the other design such as the ears.
Why did I change the design after making one I liked? I did it because of my time limit, I have 10 days to make something playable for the game jam this is being made for and so I can not be spending most of my time animating and readjusting parts until I get something nice to look at. To make this character I used Medibang Paint pro, I wanted to use Krita but I feel like that program will need to be heavily polished before it becomes usable.
After putting this character in engine I realised my perspective would be off and so i changed the current design to pixel art however I would like to change it back to a smoother looking art style if I have time at the end of the jam.